| | |
| --- | --- |
| | Libraries are full of travel books on Africa, but Malachite Lion is a narrative of an unplanned adventure, a modern odyssey that recounts the mysteries and paradoxes of East Africa.  The book describes a journey through the crowded, bustling streets of Nairobi, into the wilds of Masai Mara and Amboseli, to ancient, mystifying Mombasa, electrifying Malindi, and the sensuous Seychelles.  Much of our experience with today's East Africa is limited by what we see in edited natural history documentaries and sensational news stories.  For most of us the place is a fantasy, as unreal as Sindbad's Baghdad.  Richard Modlin's exciting account of his travels through Kenya and the Seychelles will dispel some of the apprehensions that cloak this strange land and its people.  His experiences as a scientist and academic have provided him with the skills to interestingly record his provocative observations, interactions, experiences, feelings and thoughts, and transport the reader beyond the confines of a tour bus.  Descriptions of his encounters with the locals, con men, and wildlife are poignant, humorous and heartwarming.  Malachite Lion is a definite read for anyone who has ever dreamed of traveling to East Africa realistically or vicariously. |
---
Preface and Excerpts from Chapters 1 & 2 of MALACHITE LION
PREFACE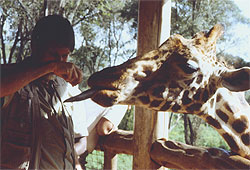 A question I'm often asked when I discuss my book, Malachite Lion, is, "What prompted you to travel to East Africa in the first place?"  Especially curious are those colleagues, friends and acquaintances that knew me prior to the trip.  To them I was a quiet, somewhat shy biology professor not overly endowed with confidence.  Although I had traveled widely, my apprehension in the face of the unknown had never materialized because either someone I trusted, or myself, had planned the details of the trips that I took.  Likewise, this venture to East Africa also began as a highly organized, itinerary-specified, well-defined research trip.  I had applied for a grant from the Smithsonian Institution and, because of my expertise in marine biology; I was awarded a slot on an international expedition to the waters off Aldabra Island in the remote Seychelles Archipelago located in the Indian Ocean.  My contribution on this journey would be to survey and collect small marine crustaceans.  A dream comes true – I couldn't pass up this opportunity.  All that remained for me to do was to get time off from the university and travel to Nairobi where I would join the other members of the expedition.  Once there, funding from the Smithsonian Institution and other museums and research institutes in England and France would support all of the expedition's activities for a six-week tour.
About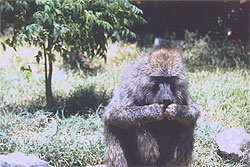 a week before my departure date I watched helplessly as my plans fell apart.  With great apologies from my Smithsonian colleagues, I was notified that President Ronald Reagan had frozen all federal funding.  Because of this, the Smithsonian Institution could not provide travel support for non-Smithsonian researchers, so my slot on the expedition was canceled.
Dream shattered!  Now, what's a poor biologist to do?  My leave from the university was approved and I had a non-refundable ticket to Nairobi.  Perplexed, I discussed my situation with the dean of my college, a prudent man whose judgment I trusted.
"Go anyway," he said.  "Maybe you'll learn something about yourself."
His words propelled me into an unplanned odyssey to a land about which I knew very little.
---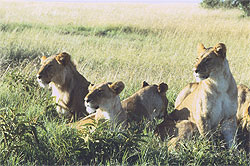 THE FLIGHT
The air is still, cool.  A slight amount of humidity enhances the musty odor that rises from the great herds roaming the grasslands.  I crawl out of the tent on my knees, rise, stretch and watch the genesis of the African day.  It brightens from stark blue-black through pastel hues of reds and blues interspersed with bronze, beige, and gold.  Thin white clouds on the horizon fracture the gilded sky into beams that radiate from the awakening source and continually stretch upward toward zenith, then outward until the firmament saturates with intense radiance when the sun enters the scene.
But wait!  I have the proverbial horse before the cart!  First let me tell you how I came to be in Africa.
*      *      *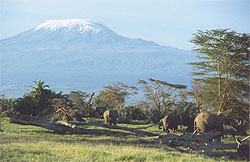 "We're now passing out over the Adriatic Sea," the pilot announced over the intercom.  He proceeded to chart the plane's course for us.  "We'll pass near Athens.  Those sitting on the left will be able to see it.  Our route over Africa will take us east of Cairo, over Khartoum and Addis Ababa, then we'll turn due south and head into Nairobi.   Welcome aboard.  Sit back.  Relax and enjoy the flight."
His words made me feel a bit anxious.  My mind hadn't clicked to the fact that this trip was taking me a long way from home.  I'd never before been in this part of the world,  and the places the pilot announced had only occurred in my fantasies.
*      *      *
---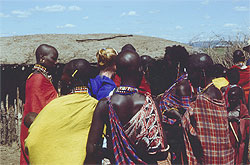 AN ARRIVAL FRAUGHT WITH UNCERTAINTY
Exhaust blew through the open door.  Headlights momentarily illuminated the interior of immigration check-in as Lufthansa's 747 turned onto the tarmac readying for its return to Frankfurt.  Acrid odors of exhaust mixed with stale and freshly applied colognes, perspiration, and the fetid breath of the newly arrived, weary silhouettes pressed into the dim, airless room, bewildering my mind with anxious hallucinations.
Travel prolongs time if one cannot find sleep.  The journey to Nairobi took thirty hours.  My insomnia flared.
This is my first trip to the African continent, and I have taken it on my own and totally unplanned.  I have six weeks to do whatever I want.  I'm wired, feel like I'm floating.  But first, there's a minor obstacle to be overcome: immigration.
Provoked, my body moves, forced to flow with the disordered queue of passengers, toward a wall upon which the words PASSPORT CONTROL – WELCOME TO NAIROBI were painted years ago.  Beneath this sign is a row of windowed counters; one is open.  All of us are trying to get to this window.
The garlic smelling coat in front of me moves aside.  I'm next.  I advance.  An official, dressed in a military- green uniform, stands behind the window, demands my passport.  Automatically, I slide it across the counter.  Whatever happened to "Welcome Bwana"?  I muse.  He fumbles through my passport's pages, stops, then turns the pages more slowly, examines more carefully, more critically.
"Is there a problem?" I ask.
"You have no Visa."
"No, didn't think it necessary."
"Move aside," he says.  Closes my passport, lays it on a shelf behind him, and makes eye contact with the woman in dark glasses who elbows me aside.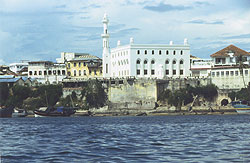 Suddenly the heat in the room intensifies.  My palms moisten.  My stomach tightens.  "Is there a water closet near?"  I ask the two official looking guys in plain clothes who escort me through a door in the plywood wall.  Neither answers.  I'm taken to a room where a single bulb hangs over a lone table.  It provides the only illumination.  Dark stained walls absorb most of its light.  I move into the room without thinking.  I'm asked to stand in front of the table.  A frightening thought stabs my mind.  Is this room to be my prison?  The place from which I will experience Kenya?
*      *      *