Birds remind us that we share the planet with other creatures.  They are colorful, energetic and fascinating, and they bring joy, contentment and wonder to those who follow them.  Bird watching has become a pastime enjoyed by 46 million people in our country.

Chasing Wings is an account of one person's passion.  In twenty-four chapters Richard Modlin vividly relates his humorous encounters with birds and lucidly describes his travels to exotic and routine birding locations.  The book begins with a child's account of picking up a baby blue jay, then quickly being aggressively confronted by its parents.  A few years later the author attempts to make a pet of a juvenile American kestrel, only to learn that raptors like freedom.  Modlin writes of other novel avian interactions in his life.  For instance, on an island off Belize, Central America, a magnificent frigatebird became a common visitor to collect handouts and relax on arms and shoulder of visiting researchers.  On a boat ramp in Connecticut, an adult mute swam got revenge.  Then there was the cold evening when Modlin found that a trio of starling had invaded his attic apartment Years later and in another state, he found that excited starling were easier to handle than the three wild turkeys that tried to beat their way into his sunroom. Modlin's account of saving a pied-billed grebe chick from the jaws of a northern pike, then spending the summer raising it and returning it to the wild, is heartwarming.  A trip to West Sister Island, Lake Erie, the author realized what the impact a 200-fold increase of double-crested cormorants in eleven years can have on a fragile habitat.

Travel with the author to view widowbirds, ostriches, sunbirds, parrots, toucans, blue pigeons, paradise flycatchers, hummingbirds and other exotic birds as he describes his visits to Kenya, Seychelle Islands, Grand Cayman Island and the rain forests of Belize.  In France he visited a raptor aviary and searched the forests of Sweden for black woodpeckers.  Follow him as he describes his birding journeys to southeastern Arizona, the coast of Maine, swamps and marshes of Florida and Ohio, and the beach communities on the Gulf Coast of Alabama.  Not only are lists of birds sighted included with the travelogues, but also easy to follow details on the sites he visited.  Chasing Wings is a delightful read for all birdwatchers and lovers of nature.
---
PREFACE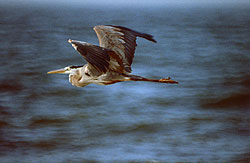 Birding, or bird watching, is an activity that can be done anywhere out of doors, or sometime indoors if one visits an aviary.  Today more than forty-six million people in our country find pleasure in following and watching the antics of birds.  They spend considerable amounts of their earnings and savings on books, attire, equipment, seed, suet and travel just to satisfy a desire to view an unusual pair of wings.  But basically, bird watching is an inexpensive hobby because all that is required is a pair of binoculars and a field guide to the local birds.  Perhaps this is the reason why birding has become such a popular pastime.  Or philosophically, maybe we admire the freedom of birds and by watching them, try to absorb their liberty to quell the constraint and confusion in our lives.  Roger Tory Peterson, the John James Audubon of our century, suggested the latter as his explanation for the explosion of human interest in birds when he said, "In a world that seems so very puzzling is it any wonder birds have such appeal?  Birds are, perhaps, the most eloquent expression of reality."
If the definition of a birdwatcher is a person who devotes serious time and effort to the study of birds and travels for the sake of observing birds, then I didn't become a real birder until 1976.  Prior to that, year as a student of biology I had had a few encounters with birds but none that could be construed as intentional bird watching.  In fact, my earlier encounters were more like confrontations.
In 1976, I completed the requirements for a Ph. D. in marine ecology, moved to Alabama and accepted a faculty position in biology at The University of Alabama in Huntsville.  That year I also met Dr. J. Milton Harris, who was deeply involved in the Alabama Ornithological Society and the Audubon chapter in North Alabama.  Because of Milton, I had a chilling initiation into the realm of birding.  He invited me to accompany him on the day designated as the 1976 Audubon National Christmas Bird Count.  From about five o'clock in the morning until well after dark we trudged around Wheeler National Wildlife Refuge on a turbulent, breath-freezing gray day in the middle of December, observing and counting birds.  Interestingly, the birds cooperated and I enjoyed the brisk, life-changing experience.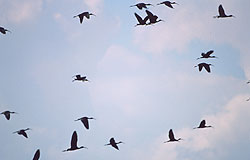 Today I consider myself a casual birdwatcher; my background in science and biology moves my curiosity more than just observing birds for their aesthetics.  Yet, I derive pleasure and relaxation from watching birds and find them mystifying and intriguing.  I'm awed by their energy, behavior and intelligence.  Though, since 1976, I have taken few trips strictly for the purpose of observing birds, I always pack my binoculars and a field guide to the local birds whenever I travel.  Whether my trips are for business or pleasure, I usually find some hours or days that I can devote to watching birds.  Since the 1990s birding during my travels has even become more important, because my wife Marian, also an ardent bird-watcher, accompanies me on many of my trips.  We have found that two pair of eyes scanning a forest, meadow, beach or barnyard can see more birds than one pair.
The chapters that follow recount some of the bird watching adventures that I have experienced along the paths I've traveled.  A list of the common and scientific names of bird species I observed is included at the end of each chapter that describes my trips.
Excuse me, while I chase a few more wings.
---
TABLE OF CONTENTS
FLEDGING A BIRDER — Toledo, Ohio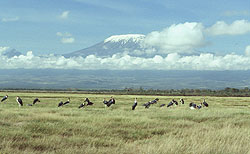 BIRDS IN THE EXTINCT BLACK SWAMP — Oregon, Ohio
STARLINGS IN THE BELFRY — Norwich, Connecticut
A SWAN'S REVENGE — Niantic, Connecticut
BIRD IN A HOLE — Kauai, Hawaii
MOSQUITOES, SPACE SHUTTLES, AND SWEAT — Merritt Island, Florida
IT THINKS I'M ITS PARENT — Delafield, Wisconsin
BIRDING THE RIFT VALLEY — Kenya, East Africa
IN THE MIDDLE OF THE INDIAN OCEAN — Seychelle Islands, Africa
THE CORMORANT CONUNDRUM IN LAKE ERIE — West Sister Island, Ohio
IN SEARCH OF PIRATES' PARROTS — Grand Cayman Island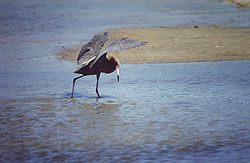 TROGONS, BECARDS AND OWLS IN NEED OF A SHAVE — Southeast Arizona
SKIMMING ALONG WITH BLACK SKIMMERS — Dauphin Island, Alabama
SAGA OF A FRIGATE BIRD NAMED ELVIS — Carrie Bow Cay, Belize
RAPTOR CENTER — Alsace, France
SYMBOLIC BIRD, THE STORK — Strasbourg, France
BIRDING AMONG GLACIAL GROOVES — Kelly's Island, Ohio
HUMMERS, TOUCANS, BASKET WEAVERS AND FLYCATCHERS — Belize
A BIRD WATCHER'S SMORGASBORD — Skåne, Sweden
THE THREE AMIGOS — Owens Cross Roads, Alabama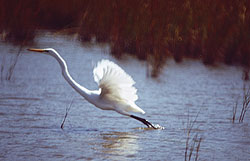 SANDHILL CRANES, DUCKS AND MORE — Wheeler National Wildlife Refuge, Alabama
SHELL MOUNDS AND BEACH SAND — Dauphin Island, Alabama
SEA PARROTS AND OCEANIC RARITIES — Washington County, Maine
WRENSONG — Owens Cross Roads, Alabama
BIBLIOGRAPHY
---
AN EXCERPT FROM CHAPTER 1
While my friends Mary and Kathy who lived down the street, picked colorful hollyhock flowers and buds to make hoopskirt ballerinas, I bushwhacked my way through stems and briers.  The girls never ventured into this thicket.  They stayed on the narrow path and picked blooms along its margin.  But I, a curious six-year-old, had to venture into the interior.  Inside, surrounded by hollyhocks, I could only see a short distance ahead.  Stalks towered at least two feet above my head and grew less than my shoulders' width apart.  Shrubs and other weeds flourished where the groves of hollyhocks thinned.  I wandered through this dim, vertical matrix of fuzzy stalks, large greenish, velvety leaves, and red, white, violet and pink flowers.  In this overgrown vacant lot—my jungle—I fantasized monsters, untamed animals and wild Indians.
This property was the last undeveloped, overgrown residential plot on Third Street, the street in Toledo, Ohio where I spent my childhood.  Other nearby vacant lots attracted trash, broken bottles, old tires, crates, tin cans, dandelions, occasional rats, and sometimes even a slumbering drunk.  They were not places where kids from the blue-collar neighborhoods of brick streets, small manicured yards and gravel alleyways could safely play.  Furthermore, the hollyhock lot was directly across the street from my house.
From the time I learned to escape my playpen, the weedy lot enchanted me.  And I was a precocious kid.  On several occasions, before my mother realized it I had crawled out of confinement and wandered across the street, totally oblivious to the traffic.  Lucky for me few vehicles traveled on Third Street; it only ran for one block.
I'm sure my absences frightened my mother because when she found me ambling among the hollyhocks she scolded and then frantically hugged me.  After returning me to the jail-like playpen, she continued her harangue by invoking the wrath of God to define my limits.  About the time I turned six, my playmates also found the lot attractive.  With them playing across the street, my mom permitted me to join in but emphatically stated, "Stay where I can see you!"
Though warned against wandering into the bush, I was absolutely confident that I could handle myself.  What was there to fear?  I'd seen Tarzan movies, sometimes the same one more than once.  My hero taught me how to move, stalk and hunt game.  Besides, mysterious critters frolicked in the shrubs, not near the sidewalk.  And I knew I was invincible in the hollyhocks.  So, when my mom wasn't looking I snuck into my jungle.
The day I helped Mary and Kathy pick the hollyhock buds and flowers to construct their dancers, I knew my Mom wouldn't be watching me closely.  Kathy, a teenager, was my babysitter, so mom believed she'd watch over me; she usually did.  All went well until Kathy yelled, "Hummingbird!" and pointed toward a nearby flower.  I'd never seen a tiny, metallic-green creature like this before, zipping around faster than a shot.  Was it a bird or a bee?  Kathy called it a bird, a ruby-throat.
Captivated, I watched.  It appeared to have no wings; instead a fuzzy blur trembled where wings should have been.  The little bullet buzzed past me.  A blast of air washed across my face.  In front of a flower it stopped, then vibrated.  Brilliant red flashed from its neck as it glided in, hovered and stuck its bill into the blossom's center.
Carefully I pursued the hummingbird along the path.  It darted between the hollyhocks.  I moved silently, following it among the stalks, trying to get a better look.  Suddenly, out of the corner of my eye I saw something blue scamper into the brush.  It distracted me from my quarry.  I dropped to my knees, started to grub through the tangle of weeds trying to find this blue object.  As I parted the low growth of goldenrod and grasses, a blue jay chick ran onto the path in front of me.  The fledgling must have fallen from its nest and had not yet learned to fly.
I chased the baby blue jay and finally caught it, cupped my hands around its body.  It struggled, and then started to screech while I carried it to where the girls were picking flowers.  Abruptly, the firmament above the vacant lot exploded into a loud, irritating chorus of,  "…deeee… deeeee… deeee…" separated by shrieks and caws.  An impetuous flock of angry adult blue jays dove toward my head, fluttered in front of my face.  I started to cry and yell, then thrashed through the hollyhocks toward the street as if a chainsaw murderer were chasing me.  Still holding the baby bird, I blasted into the clearing near the sidewalk.  I saw the girls run across the street and onto our porch, and my mother, armed with a broom, charge across the lawn toward me.
Out in the open, the antagonized blue jays now had a clear shot at me.  Their number seemed to have increased.  Probably they called in their friends and relatives to help.  They circled above, pitched and plunged toward my head.  I stood frozen, wailing in terror, but still holding the baby blue jay.  I heard my mother shouting something as she moved in slow motion toward me.  But before I realized what she was saying I felt a sharp, stinging blow to my skull, then another.  The aggressors were "beaking" me, clawing my hair.  My head smarted as if it were being scalped.  Confused, I didn't know what my mother was trying to tell me until pain kicked my brain into gear.  "Drop that bird!"  I heard her yell.
When I did, the little blue jay ran into the hollyhock stand.  The fleeting bluish flashes, flips and flops around me ended.  I stood and heard myself whimpering.
As my mother walked me back to our porch, she said, "Like I protect you, birds protect their babies.  Some do so more than others.  So when you find little birds running around, leave them alone."