My novel, Newfound Freedom, is live and available as a trade paperback from Amazon.com.  A review of the book is below.  Be the first to get a copy.  Visit http://www.amazon.com/Newfound-Freedom-Richard-Modlin/dp/0980047366/ref=sr_1_4?s=books&ie=UTF8&qid=1378490346&sr=1-4&keywords=newfound+freedom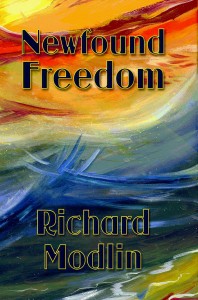 Newfound Freedom is Richard Modlin's well-crafted, historically accurate, epic tome that will thrill readers interested in the genre of American colonial and nautical adventure. It's a coming-of-age, plot-driven novel filled with camaraderie that's comparable to the works of Patrick O'Brien.
Survival, adaptation, and self-reliance are the dominant themes as two English brothers experience a perilous Atlantic crossing and unexpectedly become embroiled in the beginnings of the American Revolution. Newfound Freedom finds some of its best moments via the ideological turmoil between main characters, Jack and Ian Hollister, yet the treasures to be found in its pages are almost without limits as the author brandishes his skills as a world-class writer and historian. Modlin served as a senior research associate with the Smithsonian Institute's National Museum of Natural History.
Modlin's inspiration for the novel found its genesis in the author's love of history and an extended stay along the east coast in the vicinity of Machias, ME. There he learned of the Battle of Machias, which was the first naval battle of the American Revolution. After visiting the site of the battle and researching the events, people, and culture of late eighteenth century Machias, Newfound Freedom became not only possible, but also an actuality as a thrilling work of high adventure.
Indeed, using his superb writing skills, Modlin keeps the reader intimately engaged with the history of the time. In creating the dialogue, the author used only words and expressions that were common lexis in New England, Great Britain, and on the high seas during that epoch in time. The descriptions of the landmarks, events, terrain, and activities are also true to the time. Moreover, the fictional characters in Newfound Freedom interact with actual historical figures such as George Washington, Jeremiah O'Brien, Nathan Hale, Ichabod Jones, and many others.