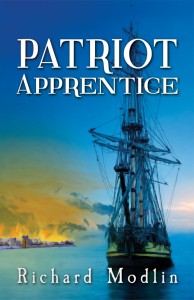 ABOUT Patriot Apprentice
Patriot Apprentice, Modlin's second American Revolutionary War thriller in the Hollister series, recounts the continued adventures of Jack Hollister. Promoted by George Washington to rank of midshipman, Jack joins real and fictitious patriots in their high seas exploits and their quest for independence. Convinced and reassured by his friend Nathan Hale that his decision to remain in the colonies is courageous and honorable, Jack accepts an assignment on the Piper, one of the first ships of war in George Washington's fledgling navy.
Danger and adventure await as he sets sail aboard this armed schooner. Though jeopardized by Redcoats, renegades, true and despicable loyalists, Jack finds dauntless courage and unfaltering camaraderie among his peers.
Richard Modlin continues to highlight the lesser-known battles of the American Revolution and events of early American history. The settings and times for this fast-paced, historically accurate tale are the days following the bombardment of the coastal village of Falmouth, presently known as Portland, Maine.
ISBN-13:  978-0-9800473-8-7
Available from Amazon  as a trade paperback. Please visit: http://www.amazon.com/Patriot-Apprentice-Richard-Modlin/dp/0980047382/ref=sr_1_1?s=books&ie=UTF8&qid=1431878802&sr=1-1&keywords=Patriot+Apprentice
Available as download from Amazon Kindle. Please visit: http://www.amazon.com/Patriot-Apprentice-Richard-Modlin-ebook/dp/B00Z79JSSY/ref=tmm_kin_title_0?_encoding=UTF8&sr=1-1&qid=1434750902